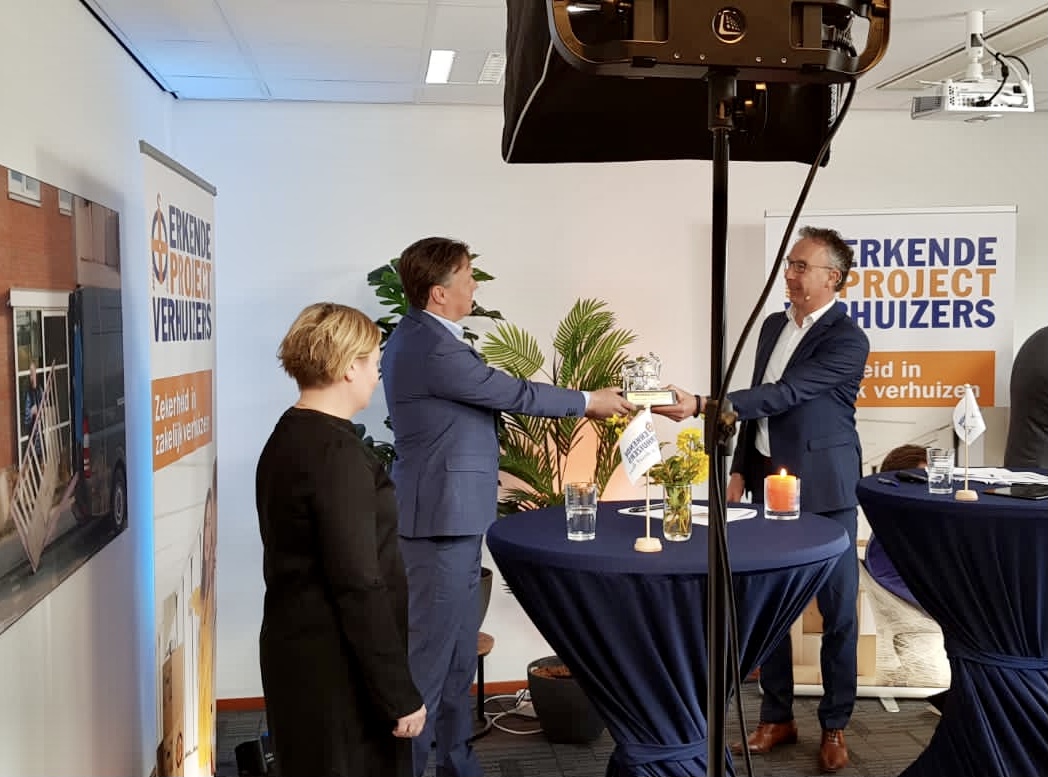 At the general meeting of the Recognized Project Movers, part of the industry association of the Dutch moving industry OEV, we were awarded today the title Recognized Project Mover of the Year 2021.
Recognized Project Movers are specialized in the implementation of large, complex and risky relocations of companies, offices and institutions. De Haan Project Movers received this prestigious award, because in the past 12 months they scored the highest marks on quality, craftsmanship, customer focus and flexibility in business relocations.
Customers form the jury through an independent customer satisfaction survey
De Haan Project Movers asks business relations for feedback during the work or during the aftercare and evaluation moments of project relocations. In addition, the independent review platform klantenvertellen.nl collects feedback on customer satisfaction during project relocations. Customers assess the services of their accredited project mover on no fewer than 15 different aspects and make this assessment visible to everyone on the internet. The award is then awarded to the Recognized Project Mover who scores the best after weighing individual customer appreciation and the number of reviews.
Proud of craftsmanship and team performance
Customer focus is, in addition to craftsmanship, one of the core values of our vision. Our general director, Wouter Hijzen, proudly accepted the prize from Cock van der Hulst, chairman of the Certified Project Movers department within the OEV.
Wouter Hijzen: "De Haan exists 245 years next year. We want to continuously supply our customers with sustainable top quality and that requires a high degree of professionalism. The EPV  ward especially recognizes the craftsmanship and team performance of our own moving employees". According to Corina van Lieshout, who is responsible for leading the dynamic Project  Relocations department within De Haan Relocations, the prize should primarily be seen as an encouragement to their continuing full commitment to customers.