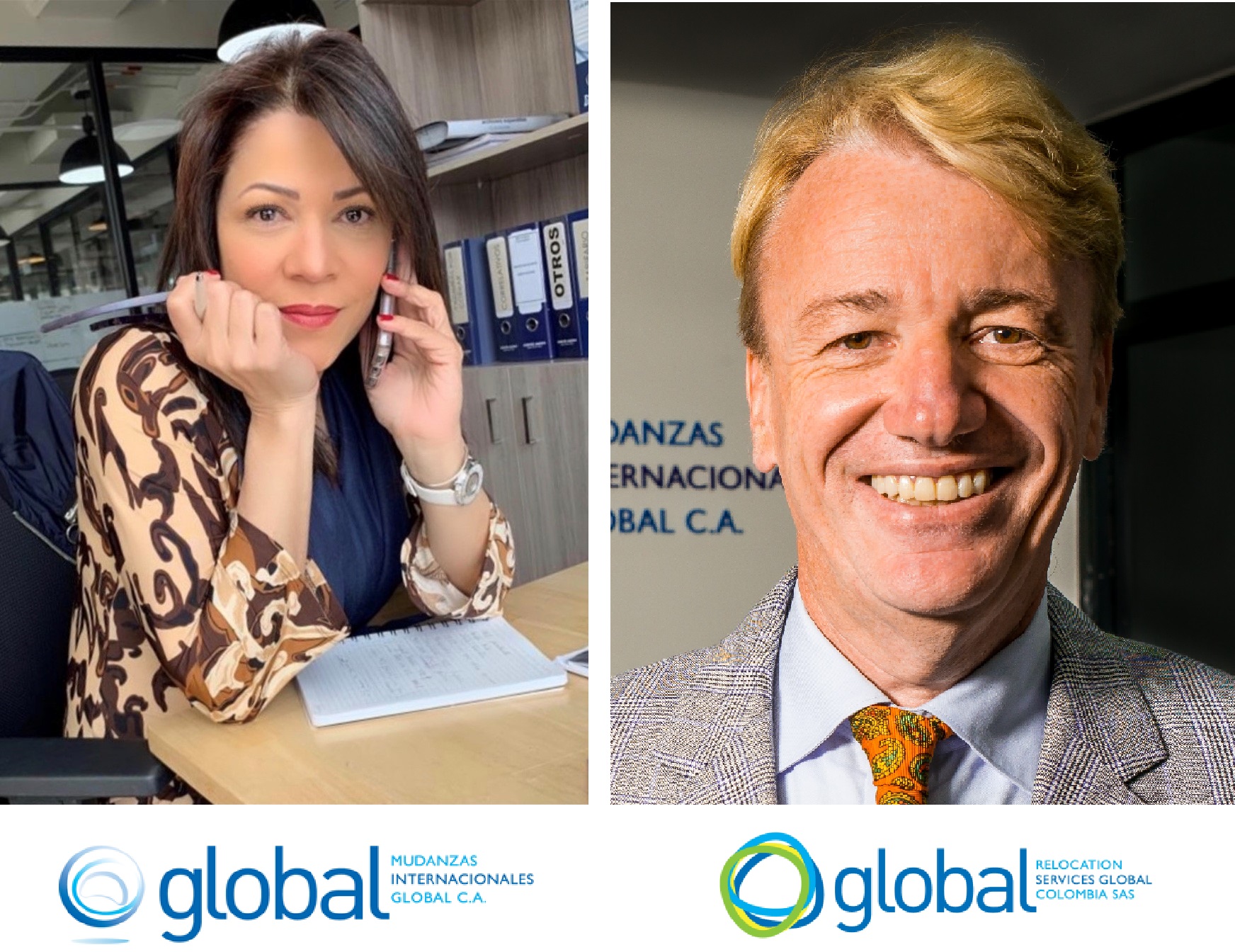 Juerg Degenman and Zenaida Romero from Relocation Services Global Colombia and Mudanzas Internacionales Global in Venezuela look at the ways in which COVID-19 has affected their businesses and lessons for the future.
We opened in Colombia two years ago because of the political and economic situation in Venezuela where we had been operating for over 20 years. It is a neighbouring country, but they are like night and day.  Colombia was booming, we already did a lot of business between the two countries, and we had plenty of opportunities to grow our business, which is impossible just now in Caracas.
We had been accepted into OMNI and were hoping to join FIDI and LACMA this year.  We had a lot of contacts and so our new business grew quickly.  At the end of last year, we moved into a bigger office. Then the virus struck.
Colombia has been badly hit by COVID-19 with over 17,000 recorded deaths and still a high level of new cases reported every day.  The reported figures for Venezuela are very low and so cannot be believed.  But, either way, the borders are closed, and the airports are shut down.  This means that we cannot work.  Everyone stays at home. Many companies are going bankrupt.  It is a terrible situation.  There is no international travel so, although we have some requests for quotations, nobody is going to pack their household goods unless they have a plane ticket in their hands. We cannot do anything much until the airports open again. If they open in September, we will have until the end of the year to make up lost ground.  But we will not get back to where we would have expected to be this year. We are just trying to survive.
What is positive is that we have all learned to work from home. It has been going very well. We have proved that we can do it and we now know how to do it right.  We will need to keep an office though and, as our business starts to grow again, we will need to train new staff, so home working will not be practical for everyone.
In Venezuela it has been more difficult.  There are so many problems with the internet and we often have no electricity so working from home is a challenge.  But our people have been very resourceful.  They have been trying extremely hard because they love and need their jobs. For example, if they can get power and internet access at 1:00am to 4:00am, that is when they will do their work.   If they do not have power, they will go to someone else's house and use theirs.  They will do whatever they need to do to make it work.  We really appreciate their dedication. It shows that if there is the will, you can do almost anything.
We did get the contract to move diplomats from the Brazil embassy when diplomatic relationships between Venezuela and Brazil broke down.  Everyone worked as a team and the customers were incredibly happy. Our people sacrificed everything to do their jobs. If they did not have a car they would come to work on a bike.  Caracas is a dangerous city and it really isn't safe to ride a bike on the streets.  But they did it anyway.  It is for this reason that we know that one day we will have a strong business in Venezuela again as soon as the politics gets sorted out.
There was a time in Venezuela when there was so much work people didn't even ask for a quotation.  Those days will return. In Colombia, however, we have strong competitors, so we must be better, we must be smart: that is what we're going to do. This halt to our business has given us the time to organise ourselves better, to train people and to learn new things.  We will be stronger when the business returns.
One thing this has taught us is the need for us to make better use of social media and digital marketing in our businesses.  We always did it in a weak way, but we need to have a stronger approach.  We need to be top of the Google list.
We will also be moving into general cargo and providing more relocation services to diversify our business, so we are not so reliant on a single revenue stream.
And, despite everything, we are positive about the future.  People will always want to move around the world. Corporate moving might be less popular but there was plenty of international moving before corporate globalisation, and that will continue in the future.  It is human nature. People like to travel.
Our membership of OMNI has been helpful during the crisis.  The OMNI Bulletins have been interesting in helping us understand how other companies have been able to adapt quickly, be more creative and work out ways of dealing with the situation; and they have been a comfort in showing us that we are not facing this alone.  We also appreciate the opportunity of using OMNI to spread our own messages knowing that the communication will get to the right people.  But we do miss the conferences and are looking forward to getting back together as soon as we can.  We hope to see everyone again in Japan.