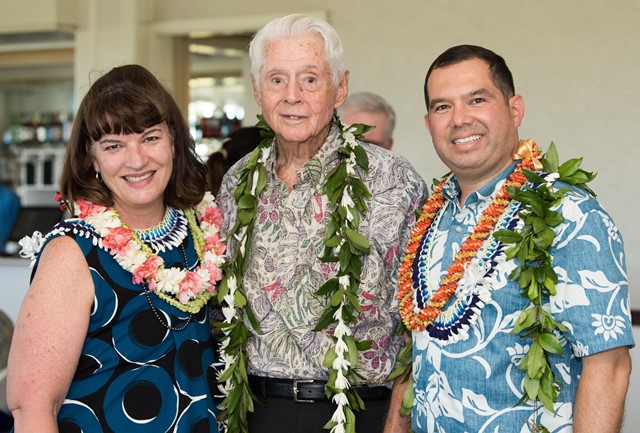 M. Dyer Global is OMNI's Probationer in Hawaii. Steve Jordan interviewed Anthony Shipp, CEO and President to find out more about the company and the peculiarities of operating in the island state.
Anthony Shipp joined M. Dyer Global in Hawaii four years ago. He was new to the moving industry but benefitted from over 20 years working in third-party logistics and international freight forwarding.
The company was started by Medford Dyer back in 1968. In 1995 it was sold to its employees operating through a trust with Rebecca Parker, who was with the company for over 30 years, in charge.  Anthony took over from Rebecca in 2017.
Anthony explained that the company structure helps to maintain that 'family feel' even though the Dyer family are no longer involved. "It gives us an advantage from a cultural perspective," he said. "All  our employees view everything they do from an owner's perspective." He also explained that Dyer has  repurchase obligations so, when someone leaves the company, their shares are  purchased and  redistributed after meeting a qualification period.
The company operates from Pearl City, on the island of O'ahu. Anthony's office overlooks Pearl Harbor and is just a short way from the Daniel K. Inouye International Airport and the container  terminal at Honolulu. Not surprisingly much of the company's business comes from the US military with Hawaii remaining strategically important. "Around 70% of our household goods business is military,"  said Anthony. "The remainder is mainly private although there is some corporate business from the hospitality sector." Hawaii has its fair share of five-star resorts for those who can afford them. Dyer  also has airfreight and logistics divisions.
Anthony said that many people have second homes in Hawaii. The islands are particularly popular with people from New Zealand, Australia, Canada, Southeast Asia, Japan, and China. This probably  explains why tonnage during the Covid crisis was hit badly with figures around 70% down on what had been expected. "But we saw an increase at the end of 2020 which is continuing slowly in 2021."
Around two-thirds of Hawaii's 1.4 million people live on O'ahu. Imports for all the Hawaiian islands  come through the terminal at Honolulu. Dyer then provides services to handle them on arrival and  distribute shipments on barges to the other centres. Most containerised traffic, therefore, is in lift vans.
As an island state it's unsurprising that the local Department of Agriculture is particularly careful to prevent anything getting into the state that could be a danger. "They are really looking for invasive species of plants and animals," said Anthony. "Plants are not allowed in, neither are particular  types of wood. Even furniture made from mahogany, teak, and other hardwoods, especially if they are coming in from Asia. The customs will sometimes quarantine the entire shipment." He said that the best advice is to provide a list and photographs of all wooden items so that customs can give pre-approval before they are shipped. They also usually expect wooden items to have been fumigated prior to  departure. "Proof of fumigation will usually help mitigate the risk," he said. "It's also helpful to have the original invoice if it's available. They are pretty rational, but if it looks as if it was built in a third-world country, and there's no documentation, then it's very challenging. Sometimes they will do a post fumigation, when it arrives, but if there's any evidence whatsoever of infestation, it's an automatic denial. The shipment will be sent back." Of course, and timber used – lift vans, dunnage, pallets, etc. – must be certified. Anthony also reminded shippers that there is a compulsory six-month quarantine period for dogs entering Hawaii.
Anthony is very happy to be back as the only OMNI member in Hawaii (M. Dyer was an OMNI member previously). "I look at it as another layer that will help us solidify reciprocating business in both
directions," he said.
Has being an OMNI member improved revenue so far? Anthony thinks so, though it's always hard to  how a direct cause and effect. "Our origin and destination agent work has increased but that might partly be because we have been putting more emphasis on fostering those relationships, maybe being a little more conscious about getting rates out quickly. Particularly while we are in the probation period, we  want to capture every opportunity that presents itself."
Anthony talked about the Aloha spirit, which he believes his company has retained. "It's an understanding of being able to give your best to those people who are around you," he said. "It's a selfless, service type of relationship. I feel that we have kept that culture within our organisation."