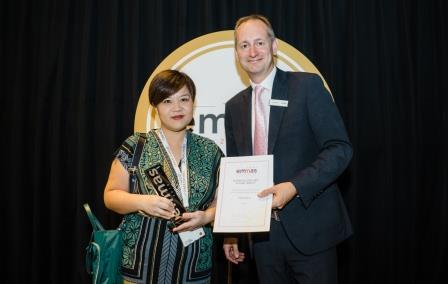 Aires is pleased to announce that the company has been awarded Outstanding Corporate and Social Responsibility Initiatives by the Forum for Expatriate Management at the APAC Expatriate Management & Mobility Awards (EMMAs). The award was presented to Aires at a ceremony held September 6 in Hong Kong.
 "Aires is honored and excited to earn the FEM Award for Outstanding Corporate and Social Responsibility Initiatives," said Aires Quality Manager Laura May Carmack, who oversees the company's CSR initiatives. "This award is a reflection of the Aires employees, who continually provide community outreach ideas and who wholly support fundraisers and activities to help others and to do the right things. The best CSR policy in the world means nothing unless staff believe in it and drive it. We are fortunate to have strong leadership who support the creative ideas of our staff."
The award recognizes Aires' efforts in community outreach and environmental responsibility. The awards were judged by an independent group of leading mobility professionals from a variety of companies and industries. In selecting Aires, judges noted Aires' focus on both practical and financial assistance for support recipients.
"EMMAs entries are rigorously judged by a team of fiercely impartial, highly experienced, senior figures in the industry, who are drawn from a range of disciplines across the APAC region and who give up their own free time to carry out a very thorough and demanding process," said Claire Tennant-Scull, Head of Content at FEM. "So, these awards carry tremendous kudos. It's so important to receive recognition among your peers for innovation and hard work and so I think the winners and all those on the shortlist should feel extremely proud."
A complete list of 2018 APAC EMMA award winners is available at http://apac.forum-expat-management.com/awards/2018-winners.