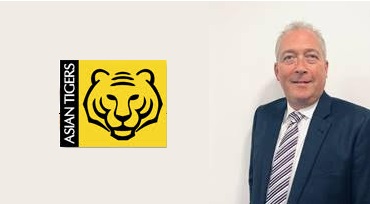 Andy Marshall has rejoined Asian Tigers Thailand and will replace Keith Meader, who is retiring, effective December 1, 2019. Andy and Keith will be working together during a transitional period from September 16 through November 30.
Andy started his career in the industry in the UK in 1984 and originally joined our company from the United Kingdom in 1994 as our Thailand Household Goods Sales Manager.  After serving 5 years in that capacity, Andy was appointed by the Asian Tigers Group to be its first Executive Director.
In that position, which he held for 4 years, Andy was instrumental in establishing the Asian Tigers brand and identity across each of the markets, and as a respected group within the industry at large. He was key to developing the foundations of several Asian Tigers Group initiatives in those early days which have served us well in the years that have since passed.
Andy moved from the Far East in 2002 and spent the following 16 years in senior regional management positions in The Middle East and North Africa, with two major moving companies, based out of Dubai.
For Andy, who is a married to Sonya – herself from Thailand – and their two children Alfie (4 years old) and Ava (just 9 days old) this is a home-coming to both Asian Tigers and Thailand.
When Andy Marshall originally came from the United Kingdom, he worked directly under Keith Meader, who was then the Managing Director of Household Goods.  As longtime friends and members of our Asian Tigers Thailand family, this will ensure a smooth management transition.
Asian Tigers Thailand welcome Andy back into our company and look forward to a strong working partnership going into the future, he can be reached on email andy.marshall@asiantigers-thailand.com.