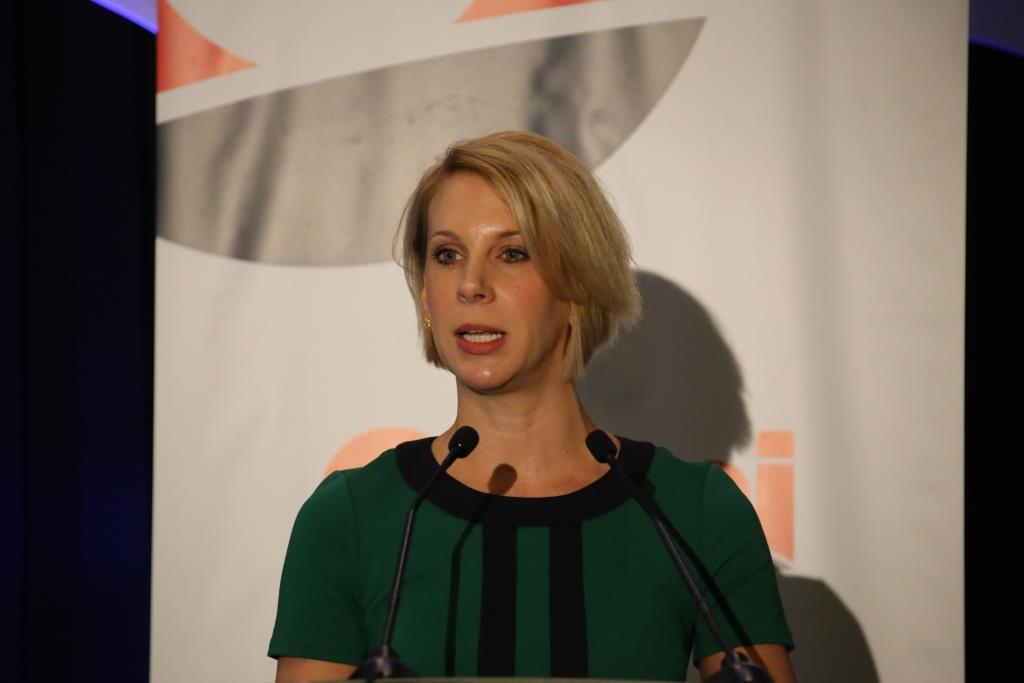 Joleen Lauffer, Executive VP of Aires, presented at the OMNI conference with an RMC's view on the rise of the lump-sum market, the reasons for its growth and some of the opportunities in offers to movers.
She said that most movers have something of a 'love/hate' relationship with lump-sum movers with many feeling that it represents an erosion of their established level of service and revenue.  But many clients like it because it's easy to administer and their millennial assignees are used to self-service working through their phones.  Another advantage, she explained, was that: "There is virtually no such thing as an exception to the policy because you get to choose how you spend your funds."
Joleen said that the one-size-fits-all approach to lump sums was becoming less common.  It really didn't work well when a single person or a family would be given the same amount whatever their needs. Now there is a more hybrid approach in which the lump sum only covers some of the benefits (typically, temporary housing, travel and a home search trip.), with the household-goods shipment being separate.  Joleen said that previously in the US there was a big tax advantage to keep the HHG out of the lump sum however recent changes in legislation had removed that benefit. In addition, there is a more creative approach to calculating the sums paid that is increasingly based on grade level, distance travelled and family size. Payments range from $2,500 – $40,000.
Joleen explained that in 2017, 17% of Aires' authorisations were for lump sums rising to 18% this year. "So, we are seeing a steady rise," she said.  "These were predominantly (90%) US domestic relocations although there was also an increase in cross-border lump sums." But Joleen explained that to get to the other 82% of the business it was necessary to have a lump-sum offer in place because the client still needs to provide a service to those people who want it.
Lump-sum management tools
So what tools are available to help a transferee manage a relocation for which a lump sum has been provided? Joleen said that there are now technology companies who are entering the relocation business. She explained that the features assignees should expect in these tools include: home finding, tax reporting, destination city information at a 'hyperlocal' level, insurance, banking services, budgeting, connection with a vetted supply chain and a modern management interface for web and mobile.
Aires has its own management system for lump-sum transferees, called Springboard.  Joleen said that Springboard would ask an assignee what services they require, what level of personal involvement they would like (e.g. doing their own packing), help them set up budgets for each element and track how their actual expenses compare, then help them manage the whole process including asking for quotations and selecting service providers.  Typically, assignees keep any money they don't spend. The system also facilitates direct contact between suppliers.
Capitalizing on lump-sum business
Joleen said that there was a rise in services for small shipments, typically under 5,000lbs, including services provided by some of the US van lines. "Offering these to the lump-sum customer allows them to spend more creatively and effectively."
She said that companies needed to decide whether they wished to participate in these lump-sum tools that provide access to those transferees. Companies can either build their own, buy a system that already exists or partner with a company that already has one. Joleen said that the right answer would be different for each organisation but they would need to come up with systems that were lump-sum friendly.
But the lump-sum approach isn't right for every assignee. Joleen offered some suggestions about how to sell against the lump-sum principle when it wasn't appropriate.  Not all assignees are well organised. This can lead to confusion, delays and potentially increases in costs. Furthermore they may make poor choices when selecting service providers which may make communication between service provider and RMC difficult. "Our ability to intervene when it's not one of our own suppliers is little to none," Joleen explained.
What's coming in the future?
Joleen said there are a few things that Aires is really keeping an eye on for the future. "One is Uber freight which entered the US market in 2017 and is now in all major US cities," she said. "You can book your freight from A to B and it will be collected by a qualified Uber driver. It's not moving friendly just yet, it's only full truck loads, but we think it's going to impact overall especially with the US driver shortage."
Task Rabbit is another company that helps people get things done around the house. Moving and packing is one of their main services. Local people who have done moving and packing can be hired by the hour. "This is something we need to watch because it will impact our world."
Joleen closed by mentioning virtual services that will be, and in some cases are already, having an impact on the industry. Virtual surveys were now common and destination services were increasingly being performed by apps.  She demonstrated, as an example, how a 360° virtual property-tour could be performed using a $13 Google Cardboard viewer and a smartphone.  No longer would it be necessary to travel on a home search tour, it could all be done remotely. "I can see this happening more in the future," Joleen said.
Joleen said that the statistics quoted in her presentation resulted from a survey conducted by Aires which was available on request.
Photo: Joleen Lauffer offers her thoughts on lump-sum moves at the OMNI conference
The slides from Joleen's presentation can be viewed here: https://forum.omnimoving.com/conference/#conferencePresentations