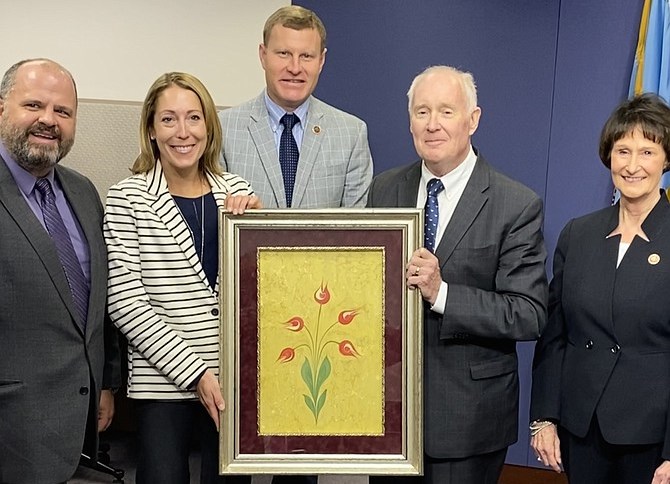 North Virginia-based Paxton International has been given a gift of appreciation by the NOVA Relief Center for its long-term support of the Syrian Refugee Blanket and Coat Drive. The gift was accepted by Mary K Paxton on behalf of the company.
Paxton has been actively involved in this humanitarian effort, providing a range of support including donations of boxes, time, manpower, trucking, storage, consolidation and transportation, since 2013.
Paxton International's involvement began after a delegation of elected officials from Northern Virginia travelled to Turkey as guests of the American Turkish Friendship Association and visited a Syrian refugee camp. Here, they received a glimpse into the lives of those affected by the Syrian Civil War – a conflict described as 'the greatest humanitarian crisis in the world' – with a reported six million people displaced within Syria and another five million seeking haven as refugees, especially in the neighboring countries of Turkey, Iraq, Lebanon and Jordan since the conflict began in 2011.
NOVA Relief Center Chairman, Sharon Bulova described the delegation's experience in the refugee camp. "To say they had nothing would be an understatement," she said. "We discovered that these were normal, average, everyday people; policemen, firemen, teachers, who through no fault of their own, had become refugees of this tragic war. They were all in need of the basic necessities – food, water and clothing. We were invited to go to one man's tent who had a family of four children. There was nothing in the tent except for some old ground covering rugs. As we talked to this man through a translator, we asked how we could help? He told us it was getting cold. Could we send him some blankets? That broke our hearts."
When the delegation returned home to the United States, they launched the first Blanket Drive in co-ordination with other organisations. In the years since, Paxton has taken an active role in tandem with many other partners to ensure Syrian refugees overseas received the 300,000+ blankets and coats collected over the years.
At times Paxton has delivered as many as 4,000 boxes to 50 collection sites, collected them and received an additional 700 boxes for staging in its warehouse.
This year's donations were distributed to three refugee camps in Jordan: Mafraq, Jerash and Irbid.
Mary Paxton said, "This is an effort near and dear to our hearts at Paxton, hitting close to both our communities at home and our operations abroad in the Middle East. We are just so grateful to help where we can."
Photo: Mark Gibb, NOVA Relief Center, presents Mary K Paxton with a gift as thanks for the Blanket and Coat Drive.