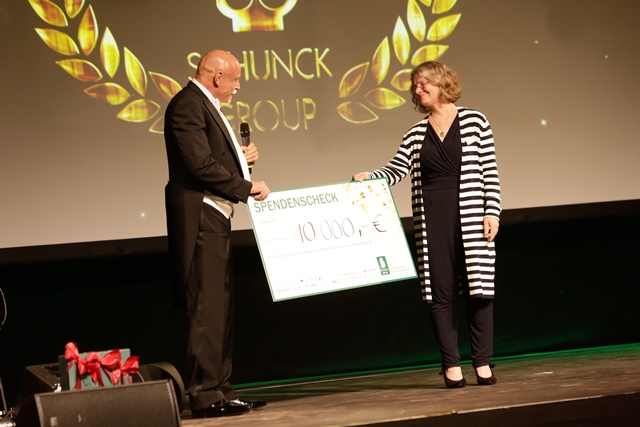 The SCHUNCK GROUP, one of the leading industrial insurance brokers in Germany, celebrated its centenary on 19 June 2019 and launched a new promotional campaign.
SCHUNCK. Make it easy
SCHUNCK. 'Make it easy' was conceived together with communications agency Cyrano as part of a brand development. The campaign targets both internal and external target groups and communicates the maxim of the SCHUNCK GROUP 'We make the complex insurance business understandable for customers and their world easier'.
Thomas Wicke, Managing Director and Head of Sales at SCHUNCK commented: "If you take a look at the history of the company, you can see that making simple has always been part of our DNA. Making simple applies to us in two ways: Firstly, we make the complex world of insurance understandable to our customers and so make their world a bit simpler. On the other hand, as a medium-sized, owner-managed company, we are fast and flexible in our decision-making processes and make things easy instead of having to struggle with hierarchies or bureaucratic hurdles."
The central measure of the campaign is the SCHUNCK simple makers. SCHUNCK employees from different areas of the company are depicted with a photo and describe in a short statement why and what they 'make easy' in their daily work. Albert Schunck, managing partner of the SCHUNCK GROUP, explained: "With the easymakers, we are deliberately focusing on our employees. It is they who play a decisive role in the success of the SCHUNCK GROUP. That's what we're emphasizing with our campaign."
SCHUNCK was founded on 19 June 1919 in Berlin and claims to have set standards in the insurance world over the last 100 years with numerous innovations and exclusive insurance solutions and services. It claims, for example, to have started the idea of replacing 'liability with insurance' in the transport sector, through the Allgemeine Deutsche Spediteur Bedingungen (ADSp), in 1927.
Anniversary celebration – 100 years of SCHUNCK
SCHUNCK celebrated its centenary on June 4, 2019 with friends, customers and partners on the traditional Nockherberg in Munich. As part of the festive evening, a donation of 10,000 euros was handed over to the Förderverein Kinderpalliativzentrum München e. V. (Children's Palliative Center Munich). "I am very happy that we were able to present the Kinderpalliativzentrum München e. V. with a gift on the occasion of our 100th anniversary," said Albert K. O. Schunck. "The support of the Förderverein has been a matter close to my heart for many years. I would also like to thank our guests and partners for the great celebration and the sponsors who supported our anniversary celebration."