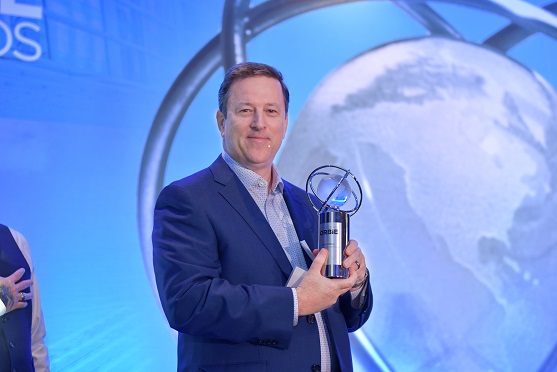 Suddath's CIO and Senior Vice President Len O'Neill was recently honoured as the 2022 Florida CIO of the Year® with an ORBIE® Award in the large corporate category. Award recipients were selected by a panel of their peers for demonstrating leadership, creating significant business value through technology innovation and engaging in community and industry activities.
The ORBIE Award follows a growing list of recognitions Suddath® has received for innovation in technology, including Top Ten Best Places to Work in IT in the US, a Digital Edge 50 Award, a CIO 100 Award and Jacksonville Business Journal's 'BizTech' Award.
"Len exemplifies our commitment to innovation, one of Suddath's core values and a defining part of our culture," said President & CEO, Michael J Brannigan. "Our goal is to leverage technology to provide the best experience for our customers and our workforce – whether it is solving their unique challenges, making them more efficient, providing them better visibility and control, or just being the easiest company to do business with."
Suddath continues to differentiate itself through specialised, proprietary technology, a strategy that has helped it be celebrated as a trailblazer in the relocation, workplace and specialised logistics industries. Nowhere has the impact been greater than in Suddath Workplace Solutions, its commercial moving and workplace services product line, where it has grown from $25 million to $125 million in a five-year span, becoming the largest commercial mover in North America.
Late last year, Suddath was granted a patent for its Tracker technology by the US Patent and Trademark Office. Tracker brings commercial moving into the 21st century through inventory tracking, real-time status updates, equipment photos and digital quality management – all providing customers with improved accuracy, increased visibility into the process and less disruption and down time for their business. A cloud-based application, Tracker gives customers the ability to see exactly where every item in their move is throughout the process.
Tracker is just one of several applications in Suddath's innovative suite of technology solutions. Estimator, a cloud-based commercial moving cost projection tool, provides a comprehensive move plan and pricing proposal with guaranteed estimates. It streamlines the process for customers by giving them a complete overview of dates, times and resources needed well before a move, and provides the science and the data behind the numbers for clearer understanding and better reporting.
The base technology used to develop Estimator and Tracker helped Suddath bring a related tool to market, improving the experience for its furniture, fixtures and equipment (FF&E) logistics business customers. The Suddath Inventory Management Procurement Logistics application – or SiMPL® — integrates with systems used across the entire manufacturing and logistics supply chain, so customers can see what's happening on an end-to-end basis: from production and shipping, to delivery and installation.
Photo:  Suddath's CIO and Senior Vice President Len O'Neill.