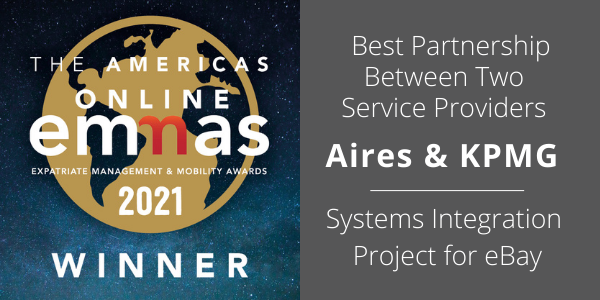 Aires and KPMG are pleased to announce that their organizations have jointly been awarded Best Partnership Between Two Service Providers by the Forum for Expatriate Management at the EMEA Expatriate Management & Mobility Awards (EMMAs). The companies were awarded for a client systems integration project that created efficiencies for global mobility teams and their assignees.
The award recognizes the systems implementation initially created for eBay that is now available for all of Aires' and KPMG's joint clients. The awards were judged by an independent group of leading mobility professionals from a variety of companies and industries. In selecting Aires and KPMG, judges noted the efficiencies created for global mobility teams allowing them to work more effectively combined with the visibility created for assignees as they navigate the complex world of mobility tax implications.
Through the alliance with Aires, KPMG brings its technologies and capabilities together with those of Aires to provide focused offerings:
· Dual Initiation: By initiating projects within one system, organizations can decrease the burden of data entry and improve data accuracy, while minimizing authorization time.
· Milestone Tracking: For greater context, a holistic view of an employee's mobility journey can be shared across a single KPMG-Aires platform, including the status of both tax and mobility services.
· Reporting: Data can be shared on a single dashboard to view total global mobility spend from a single data source and within a single report.
· Cost Estimates: Aires' on-demand cost estimate tool pulls tax logic and calculations from KPMG's global tax calculation engine, providing real-time, policy-based cost estimates that include all anticipated costs with professional tax estimate accuracy and granularity.
"EMMAs entries are always rigorously judged by a team of fiercely impartial, highly experienced, senior figures in the industry, who are drawn from a range of disciplines across the Americas region and who give up their own free time to carry out a very thorough and demanding process," said Claire Tennant-Scull, Global Director of Content & Events at FEM. "So, these awards carry tremendous kudos. It's so important to receive recognition among your peers for innovation and hard work and so I think the winners and all those on the shortlist should feel extremely proud."
A complete list of 2021 Americas EMMA award winners is available at https://americas.forum-expat-management.com/femamericas2021/en/page/winners.