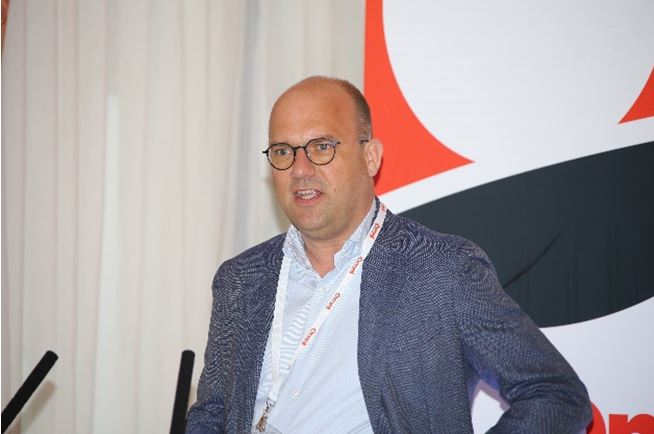 Wiebe van Bockel, CCO Voerman International, addressed the OMNI conference in Seville to offer his opinion on how the industry has embraced technology and provide an insight into how his company has become a recognised leader in this respect.
There was one very strong message from Wiebe's presentation: movers should get involved in technology as failure to do so would mean they would risk being left behind in a very competitive world.
He said that the technological world was changing rapidly but it was yet to have its full impact on the moving industry.  Although moving companies had adopted move management software systems and accepted that data is now stored in the cloud, as yet, moving companies had not been hit by disruptive technology in the way that some other industries had.
Disruptive technology
He offered Netflix and Spotify as examples of technology that had disrupted the TV and music industries by putting the consumer in control.  Moving companies, he believes, have to do the same but will need help to fully appreciate the opportunities.  "People in the moving industry don't like change," he said. "We are still a very archaic industry."   He showed how the whole moving process, even in a digital world, had changed little with the individual elements – lead acquisition, survey, quotation, the move and administration processes – all operating manually and independently. He said that even the software currently available doesn't integrate these processes fully with the customer in mind.
The Voerman approach
Some years ago Voerman launched a new company called Moverall.  This allowed people to do their own surveys, self-select their moving company, get a tailored quote and book the move online.  Wiebe said it didn't work, and cost the company money, but they did learn a lot.
Since then the company has launched Move4U which looks at the process from the client side by asking what they need; supports RedSky move management; recently launched Reedge, a chat-based platform designed to improve communications from the customers' side; SurveyApp, a video and photograph-based survey tool; and also has new technology called moovyn.com which is currently under test.
Wiebe said that now we have many transferees being given lump sum payments by their companies, it was up to the moving industry to give them opportunities to spend it. We want them coming direct to us, not surfing the internet," he said. "We are headed towards a future of robotics, predictive models and AI-based consumer service. I believe we are going in the right direction."
A question from the audience voiced concern about letting customers take the lead, even though they are technically savvy, as they wouldn't understand important elements of the moving process.  Wiebe agreed but said that care needed to be taken to identify the critical points in the process and make sure that they were performed correctly.
Photo:  Wiebe van Bockel