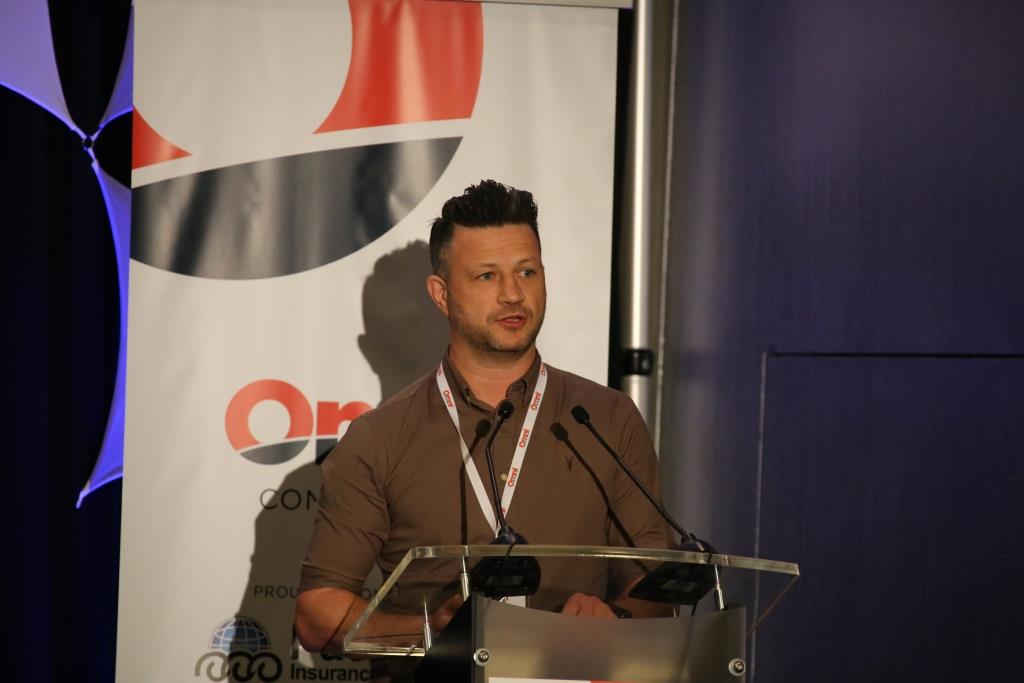 Justin Taylor, the managing director of Graphitas in the UK, returned to the OMNI conference after his successful digital media presentation in the Seychelles to deliver the second instalment on how to market your company online. This time he focused on targeting through Facebook.
He said that most people don't think of Facebook as a place to do business, more as a place to post pictures of kittens or holiday snaps, however Facebook have comprehensive tools which allow to Businesses to target users.
He also pointed out that a large proportion of the world's population is on Facebook and on average 19% of the time spent on mobile phones is on Facebook, making it a potentially powerful tool. "Your clients are on Facebook and they like being there," said Justin. "It's easier to sell when people when they are in an environment they like."
A good starting point is a dedicated section on the Facebook website www.facebook.com/business.
Justin explained that it tells you what you need to do to get started. He said that it was not the same as reaching people through your Facebook page; it was a mechanism to advertise to Facebook users, all 2.5 billion of them. "Users don't need to 'like' your Facebook page to see the adverts, they don't even need to have heard of your company," said Justin.
Of the billions of people who are on Facebook, very few are looking for moving services. However, Facebook includes a tool called an 'audience builder' that allows you to drill down and target the people you need to contact. Justin demonstrated how the audience can be targeted geographically, by age, income, net worth, number in the household, job title, job function, and their interests. You can even build a list of people who work for a specified company. As you build your target list Facebook will suggest other groups that you might like to include. In this way you can target precisely the people who are interested in the services you offer.
Facebook also allows you to exclude people who you think will not be interested in moving home such as students, journalists, business owners, people who have recently changed jobs or those who have moved house. As an example, Justin took a sample of 10 million people who live in the London area and, using the audience builder tool, trimmed it down to just 5,800. "So now we have a hyper-targeted audience," said Justin. "These are the only people who will see your advert and these are the people you should be talking to." Using the same geographical area, Justin prepared an audience of potential corporate customers, getting the 10 million down to just 1,000.
The Facebook audience builder is free to use. You only pay when you start to advertise. The cost is then approximately $10-$15 for every 1000 impressions. "So maybe for $100 or $150 you can reach that entire audience of hyper-targeted people. I don't know anywhere else on any other platform where you can do that."
Justin shared that he had checked the websites of 200 of the top moving companies in the world, including OMNI members, only 11% of which have the Facebook advertising pixel on their website. This is a piece of code that identifies who is visiting your site and which pages they are viewing. Anyone running campaigns using Facebook for Business would have it. This demonstrated that virtually nobody else is using the system in this way. "In my opinion this is an untapped opportunity for you as virtually no one else in your sector is doing it," he said.
In response to questions Justin explained that it's possible to set your own budget for the campaign. You can also choose when the campaign runs, for example, turn it off at weekends or just run it for an hour a day. "You have full control over how you spend your money," he said.
Facebook will automatically post the advert on Instagram using the same audience targeting. In comparison to LinkedIn, Justin said Facebook was less expensive, better targeted and reached people when they were much more relaxed and receptive. Regarding Twitter, Justin said it was possible to run similar campaigns but, in his opinion, the tools provided were not quite as sophisticated.
If the Facebook pixel is installed on your website, you are able measure the success of an advertising campaign, as it will report information such as number of visitors and goal completions from your advert. It is also then possible to create an additional audience just made up of those people so you can retarget them. "Whether you plan to use it or not I would advise everyone to add the Facebook pixel to their websites, as it will start collecting visitor data that can then be used for a campaign at a later date," said Justin.
The slides from Justin's presentation can be viewed here: https://forum.omnimoving.com/conference/#conferencePresentations